Slim Zippo Lighters:
Slim lighters were first introduced in 1956, with a flat bottom and no date code. The first markings were added in 1957 and overlapped into 1958. From 1957-1965 the code configuration on the slim lighters differed from the regular lighters (See Date Code Chart below). From 1966 on, the configuration has been the same.
Bottom Stamp:
The appearance of the word "Zippo" in the bottom stamp provides another clue to dating. There have been three major changes, as shown in inset. From 1933 to the mid 50s the word Zippo was stamped in block letters. The Zippo script logo was developed in the late 40s and was phased-in on the lighter bottom stamp around 1955. In the late 70s the logo was redesigned. It was incorporated into the bottom stamp in 1980.
Zippo Canada 1949 - 2002:

From August, 1949 through July, 2002 Zippos were also produced in Niagara Falls, Canada - the only place other than Bradford, PA where they were ever produced. About 13.5 million lighters were produced by Zippo Canada. The bottom stamp differs by having Niagara Falls, Ontario rather than Bradford, PA on it.
Case Bottom Type:
Zippos had a flat bottom until 1946 when the bottoms were indented.
Date Code:
Starting in 1958 Zippo used date codes (there were prior date codes, but no one seems clear on exactly what they were). If the Zippo is 1958 or later, check the Date Code Chart to find the year and, frequently, month of production. The Date Code Chart is below.
Patent Date:
Patent Pending: 1933
2032695: 1936 - 1950
203695: 1942-1946 This number stamped in error, typically on black crackle wartime models
2517191: 1950 - 1957
2517191 w/ Patent Pending: 1950 - 1957
Hinges:
Outside hinge with 3 barrels: 1932 - 1935
Outside hinge with 4 barrels: 1936 - 1937
Internal hinge with 4 barrels: 1936 - 1943
Internal hinge with 3 barrels: 1943 - 1948
Internal hinge with 5 barrels: 1948 - present
Internal hinge with 4 barrels: 1941 replica
Outside hinge with 5 barrels: 1932 and 1933 replicas
Please note: early Zippos in particular were prone to hinge failure. Many of the early hinges were replaced, as have been some later ones, so the hinge barrel count is not always absolutely accurate as it is possible a repair replacement has been made.
Chimney Holes:
16 (8 per side) - 1933 - 1934
14 (7 per side) - 1935 - 1946
16 (8 per side) - 1947 onward
Some Finer Points:
1942 - Because of the war and unavailability of copper and brass, lighters were made from low grade steel. The appearance wasn't so great and there was a tendency to rust, so a black crackle paint was used on these lighters. Black crackle Zippos were apparently produced only for shipment to armed forces overseas and none were produced for domestic sales.
1943 - Since the black crackle paint was covering much of the information stamped on the bottom of the cases, Zippo started stamping the information on the inserts, as well. The difference between a 1942 and 1943 Zippo can be determined by the insert as the 1943 ones had markings on them.
1946 - Due to shortages of chrome and brass after WW2, lighters were produced from unchromed nickel silver.
1946 - The flint wheel was changed and production was halted for a time in 1946 during the changeover; 1946 models are, therefore, a little more scarce.
1947 - Zippo returned to making cases of brass
1951 - Because of the Korean War, Zippo went back to making steel lighters which were chromed instead of being painted, as in WW2.
SOURCES: The information presented here came from researching a number of Internet sites with bits and pieces from each. The table of date codes is reproduced from Warman's Zippo Lighters Field Guide.
Zippo Date Code Chart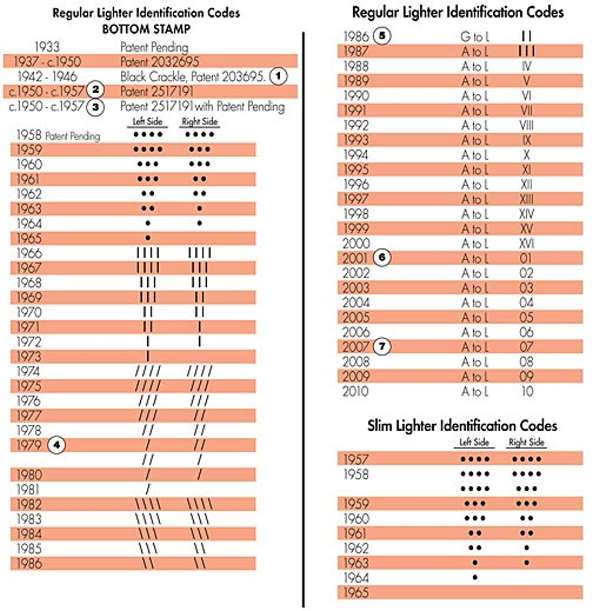 Footnotes for Zippo Date Code Chart
On some lighters, this number was stamped in error, should have been Patent 2032695.
Zippo records indicate an overlap of bottom stamp configurations from 1949-1957.
Some lighters produced between 1955-57 were date coded; however, specifics remain unclear.
In 1979 an error was made in the date code. One of the slash marks was removed from the left of the Zippo trademark instead of being removed from the right; thus the code read: / //. This date code error was corrected within the same year to read: // /
Effective July 1, 1986 the dot and slash system was replaced by year / month code. Year is noted with Roman numeral; letter designates month (A=January, B=February, etc.)
Beginning in 2001, the Roman numerals indicating the year were replaced with numbers corresponding to the last digits of the year of manufacture.
The first Zippo BLU™ butane lighters were made in 2007. The date code is the same format as Regular Windproof Lighters.
SOURCES: Chart and footnotes are from the Zippo Facebook page as is the Bottom Stamp image. The Zippo Canada bottom stamp image is from http://www.zippo.ca/bottomsup.php