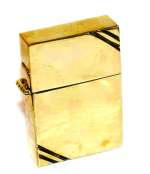 For many years, top Zippo collectors were wondering if the Zippo outside hinge model was ever manufactured in 14k gold. About 10 years ago, I was offered one which originated in California from a lighter picker. I never met him but he sent photographs and I was convinced it was correct. He had offered the lighter to all the top Zippo buyers who wanted the seller to name his price. I made an offer and bought the lighter. Upon receipt, I showed it to two prominent antique dealers and one expert vintage lighter dealer who all confirmed it was correct and definitely at least 70 years old.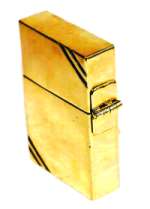 I understood that lighter manufacturers of the 1920s thru 1930s, who were mostly known for plated lighters, had their gold and silver items made by jewelry workshops. Ronson, Clark and Evans utilized R Blackington of Attleboro as well as Webster Company. Even Alfred Dunhill of New York had Madison Avenue jewelers make their 14k gold lighters.
So, too, did Zippo, as the gold lighter is constructed of square panels being internally soldered together. I am not aware of which jeweler made the gold items for Zippo and Zippo Manufacturing likely has no information. The people in charge of the Zippo archives are not knowledgeable in this area as no one from 1935 is still alive to know the answers. They believe the first gold Zippos were 1939 but are clearly incorrect as a 1937 Zippo magazine ad clearly states 14k gold models are made to order; one is even in the Zippo Manufacturing lighter book.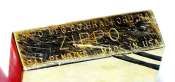 Knowing of the business acumen of George Blaisdell, I cannot imagine he would not offer his lighter in precious metals, if they were done on an individual basis. There was no need to invest in costly materials if gold lighters were made one at a time. Blaisdell's genius was his business abilities.
Enjoy the photos of the fabulous 14k gold four barrel outside hinge Zippo. It is correct, original and extremely rare.

Photos by Larry Tolkin