I have had many thrills since I began collecting lighters, some 30 years ago, but none were more exciting than to meet or interview a lighter inventor. I had an opportunity to interview Harvey Avedon of New York when he was 96 and learned the history of "StrikALite" plus Harvey's later endeavor with precious metal lighters.
At the time Harvey was sharp as a tack but could not understand why anyone would be interested in collecting old lighters. I quickly learned that Harvey Avedon was "StrikALite", which started in 1934 and manufactured novelty volume priced lighters in New York and Providence, RI.

StrikALite models included strikers, vanity tube lacquer lighters, and catalin and bakelite plastic resin table lighters. He was forced to close StrikALite in 1942 due to limited raw materials, which were diverted for WW2 production. The last production of his StrikALite strikers were manufactured with colored crackle finishes.

Soon afterward he opened Harvey Avedon Sales Corporation. Harvey designed and manufactured precious metal jewelry (silver and gold were available during WW2) and accessories including his popular streamline diagonal cut deco automatic in both sterling silver and 14k gold. This automatic lighter design was created circa 1942 for his fiancée at that time, who later became his wife.

Harvey enjoyed a successful jewelry business with Tiffany & Co., his largest customer. Many items Harvey made for Tiffany were branded, thereby only marked 'Tiffany'. Many of the 14k gold cased windproof Tiffany lighters with Zippo inserts were actually made by Harvey Avedon in New York City.
Harvey showed me a 1970 sales catalogue which featured a few etched gold. The Avedon sales catalogue primarily featured sterling and gold jewelry along with men's accessories. Harvey finally closed his jewelry business in 1976 after a major burglary at his west side New York factory.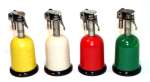 Harvey was quite a character and well known in New York high society during the late 1940s through the 1960s - especially for his New Year's parties in Cuba. Harvey would rent a DC-3 airplane and fly his guests to Havana for a wild celebration.
As for his lighters, Harvey was a hands on executive-owner performing many important responsibilities for the company. He was very mechanical and became a master die cutter.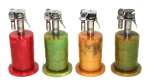 Shown are his pocket strikers that were sold at the 1934 Chicago Century of Progress Fair and the 1939 New York World of Tomorrow Fair.

Harvey received a design patent in 1934 for his streamline pocket striker body design and hand cut the dies for both these World's Fair models. There are many other versions of Worlds Fair pocket strikers manufactured by other lighter companies, especially Match King of Chicago. Inexpensive novelty pocket strikers were popular sales promotions at both these expositions. I think its "fair" to say the die cut Avedon brushed steel strikers are the nicest.
Harvey did pass a few years ago and lighter collectors should be thankful for his creating such fun art deco novelty collectibles.

Photos by Larry Tolkin