Austria, birthplace to the flint lighter in 1903, also produced some of the most important artists, craftsmen, and metal ware manufacturers of the 20th century. Artists including Josef Lorenzl and Josef Hoffmann of the Weiner Werkstatte were early students of the modern design. One of the most important of all the Vienna designers was the Hagenauer workshop.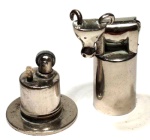 The firm of Hagenauer began in 1898 with the designs of Carl Hagenauer. Hagenauer had apprenticed as a goldsmith with prominent Austrian jewelry manufacturing firms. His early works were arts and crafts style with his focus on bronze casted figures. The Hagenauer firm won awards for its designs at exhibits in Paris, London, and Berlin. Carl's son, Karl, joined the firm in 1919 and contributed both new plating methods and more modern designs to their novelty accessory designed items. These designs of the mid-1920's were later copied by numerous other companies including Frankart and Ronson for their Rondelight table lighter designs.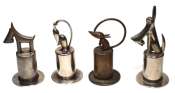 Hagenauer products were soon available in leading department stores as they were very trendy. Carl's youngest son, Franz, joined the firm in 1926 also adding applied modern design which he studied at school. The Hagenauer workshop is known for their distinctive WHW logo usually marked on the bottom of items.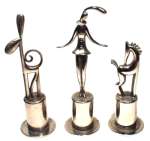 Hagenauer is considered one of the leading art deco collectibles in Europe and also important in the USA. The well made quality items range from fabulous modernistic chrome people sized sculptures to tiny comical bronze character figurines.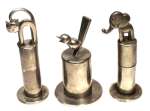 For lighter collectors, Hagenauer manufactured two types of lighters: one with a lift arm on top and one with classic wheel wick mechanism under cap. Both models come in either bronze-brass-nickel silver-or chrome. Hagenauer also made similar designs for volume priced department stores in the USA such as Gimbels and those items usually do not bear his mark.
Hagenauer lighters come in numerous shapes and sizes and are some of the most playful novelty character and animal figural lighters one can collect.

Photos by Larry Tolkin