Lady Esther Cosmetics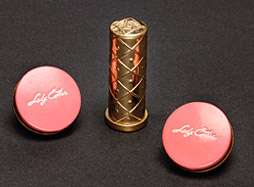 Syma Cohen (*1891 - 1990) had registered as early as July 1st, 1913 a cosmetic label in her and her siblings name. "Esther" was the name of her sister, who got married soon after and left the new company. Courage and entrepreneurial spirit of her younger brother Alfred (*1900 +1951) lead to an enormous success of the enterprise. In the 1920s, the company shares belonged equally to him and Syma. In only 20 years Lady Esther was the leading brand in the United States.
Photo shows Lady Esther lipstick and rouge boxes from 1936.
After Alfred's early and sudden death 1951, his will was contested by family members. Alfred owned all shares of the company when he died; he had paid Syma out two years before. A Probate Court ruled to auction the shares and pay out the descendents. In the US the Lady Esther brand is still known for its Four Purpose Cream® which is marketed by a pharmaceutical wholesale company. Outside US, the trade mark rights belong to Lady Esther GmbH in Germany since the 1970s.
Source:
LadyEsther.com